Escape reality for just a little bit and go on this unexpected adventure! Small Is Beautiful is showcasing miniature art in the Big Apple, located 718 Broadway in Manhattan. The museum offers a different and playful perspective on life and art, questioning and challenging the gravity of it all!
There are over 130 works of art from over 30 international artists all over the world. The Small Is Beautiful Museum has amazed over 150,000 visitors from Paris to London. The miniature art phenomenon may have been birthed online through social media but this is the first time it has a dedicated physical space and it's truly inspiring! 
Tickets are currently available here and you can read on for the rest of our review of our experience at the Small Is Beautiful museum.
As a born and bred New Yorker, one display that pulled at my heart strings came from NYC's own Danny Cortes. The Brooklyn-born artist is known for creating pieces of old-school New York. Pieces that are displayed include a small replica of an old apartment building and the notable Harlem spot Willie's Burgers. As a music fan and concert-goer, seeing a recreation of the legendary music venue CBGB gave me a serious sense of nostalgia!
Shadowlogy is a mesmerizing discovery in the museum when you see Vincent Bal's art. His pieces are whimsical and truly inventive! The Belgian artist uses everyday items to create some really spectacular art with light and shadow. From a drinking glass turned into a shimmering pool to a potato peeler transformed into a piano, Bal's pieces will change the way you look at art. At this museum you will see a variety of his work!
Whether artists are local or international, the sheer amount of culture in the museum is truly amazing. Iranian artist Negar Fa'al uses paper and molding to make her creations. From colorful characters such as Mila & Ken and Mr. Migor, Fa'al draws inspiration from graffiti and origami.  Like Danny Cortes, her art had a certain nostalgic urban flair that any city kid could connect to!
On the opposite end of the spectrum, some pieces took you out of NYC and right into where the artist grew up. Artist Le Mini di Claudia (or Claudia's Minis) whisks viewers away to an Italian countryside. Claudia Campanale is based in Italy's southern region of Puglia and her art shows it. Scenes come to life in a rustic kitchen featuring pasta, seasonal fruit, and much more! Like many pieces, her art taps into that nostalgia that we  crave even if it's to a place you've never been before. Her art is comforting, charming and rustic.
There are a few sculptures that are much larger throughout the experience while for others you need to look through a microscope to see! Each morsel of artistic expression has an important story and it's fascinating to learn about all of them!
The museum is open and adult tickets start at $21. There are also discounts for students, members of the military and senior citizens (65+).
After exploring the wonders of the museum you can buy certain pieces of art from a variety of artists who were showcased. The Small Is Beautiful store is its own experience of hidden gems within the museum. You can also tap into your inner miniature artist and Buy a "Do It Yourself" kit!  The shop allows you to create and learn at home long after you've enjoyed the museum.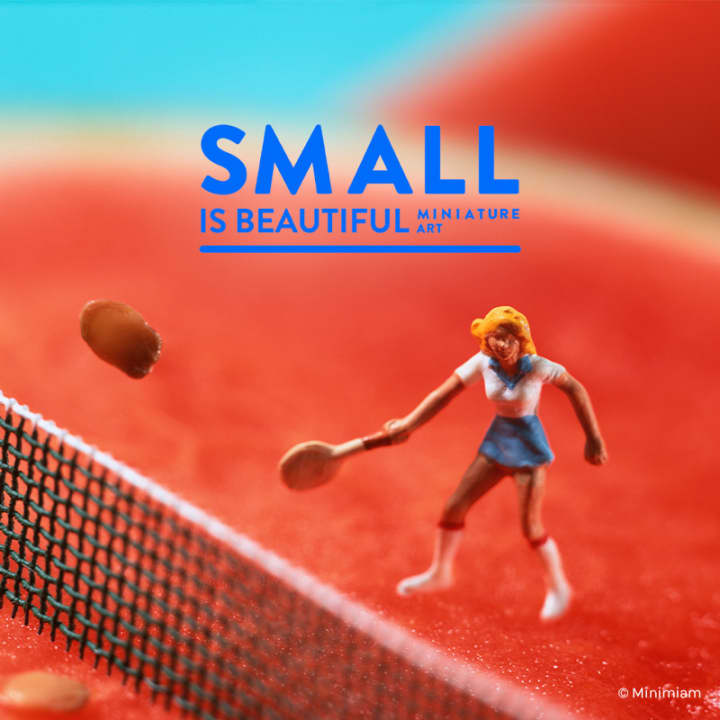 Small is Beautiful: Miniature Art Exhibition
---