The depth and creativity of Small Is Beautiful has been making big waves in New York at 718 Broadway but it's closing it's doors on Dec. 31st! Get tickets while you can to this thoughtfully tiny spectacle, a museum featuring over 30 international artists and 130 pieces of art. For any art lover, this experience is a great gift to give during December!
Small but mighty, this artistic adventure is here until the end of December!
This artistic universe that celebrates everything tiny first started through social networks, giving artists the freedom to express what Small Is Beautiful represents, in their own way. This experience showcases creators from all over the world, below are a handful of what visitors can expect.
Danny Cortes (NYC) – Brooklyn artists Danny Cortes reimagines landscapes of his home borough from the 1990s. Now a part of New York City that is a hotspot, Cortes keeps Brooklyn's lost struggle and grit alive through his art despite most of it being buried beneath gentrification. An ode to graffiti, stories of decay and a beloved music spot CBGB are all featured in his work.
Vincent Bal (Belgium) – Known for playing with light and shadows, artist Vincent Bal from Antwerp transforms everyday items to stunning and playful images. From a crushed McDonald's cup to a pineapple, Bal brings whimsy with his work.
Samsofy (France) – Hailing from Pont de Labeaume, visual artist Samsofy mixes building models, installations, photography and street art. Figurines are used to create amusing scenes such as a 1960s Beatles Concert, a tribute to Crocodile Dundee or even the home of Lord of the Rings character Gandalf.
Noelle Burd (Michigan) – Ann Arbor artist Noelle Burd  specializes in minute details for her intricate dioramas. These miniature structures pay tribute to the mystique of abandoned and desolate places. Whether it's an unruly mid-century modern bathroom inspired by The Great Gatsby or a raged diner turned shelter, Burd creates complex scenes using wood, clay and resin. Her pieces trigger curiosity, wonder and analysis.
Negar Fa'al (Iran) – Inspired by graffiti and origami, Negar Fall is a former art teacher from Tehran and uses paper and molding for her pieces. From colorful characters such as Mila & Ken or Mr. Migor to tiny abstract objects like an old blender and barber chair.
Minimiam (France) – Franco-Japanese photography duo Akiko Ida and Pierre Javelle based in Paris create miniature food art. Test your palate with their light-hearted pieces like "Slice" which features a tennis match played on watermelon and Leviathan a sea monster who happens to be made of spaghetti.
Slinkachu (UK) – Based in London, Slinkachu puts figures in urban settings…and then he abandons them. His miniature street art is meant to convey the isolation of life in big cities.  In various parts of Europe he poses, paints and glues the characters and uses scale to create a feeling of fun and seclusion through his photos.
This incredible artwork won't be in NYC for much longer so see it while you can this holiday!
On top of featuring artists from all over the world, there are also workshops available for children ages 7-12. In addition, there's a shop near the experience where you can buy limited edition pieces of art from artists at the space.
Small Is Beautiful has enchanted over 150,000 visitors in Paris and London so snag your opportunity to see it in NYC while it's open for a limited time!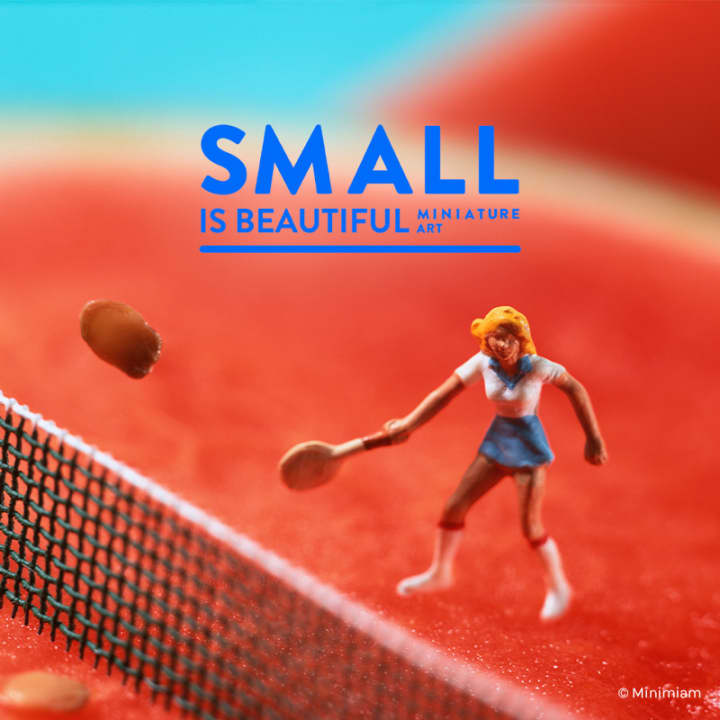 Small is Beautiful: Miniature Art Exhibition
---