The captivating experience that is Small Is Beautiful has been leaving a big imprint on the hearts of art fans globally, over 150,000 guests worldwide to be exact! The museum is currently running and is located on 718 Broadway in Manhattan.
There are many pieces of art on display and so much to see. Some of the art is so intricate and tiny so pay close attention so you don't miss it. The experience has been highly revered since it opened in NYC (4.9 out of 5 stars)! Here are just a few reasons we think you shouldn't miss Small Is Beautiful!
There are over 130 works of art from over 30 international artists. From Europe and Asia to the Middle East and all across the U.S. Notable international artists include France's Samsofy and Minimiam, Vincent Bal of Belgium and Slinkachu hailing from the United Kingdom. There are also a couple of artists featured from right here in NYC!
Speaking of which, some of the coolest art came from Brooklyn's own Danny Cortes. He harnesses deep roots and nostalgia that every native New Yorker will appreciate! At Small Is Beautiful, pieces that are displayed include a small replica of an old apartment building, the notable Harlem spot Willie's Burgers and the legendary music venue CBGB!
Belgian artist and filmmaker Vincent Bal uses shadows to create some of the most captivating pieces of the exhibit. Everyday items become a vessel for incredible shadow art. At Small Is Beautiful, you'll see a potato peeler transformed into a piano, scissors into a hootin' and shootin' cowboy, a glass into a shimmering pool and more!
There are limited edition prints based on some of this great art (including Vincent Bal's Shadowology) at the Small Is Beautiful store within the museum. You can also find unique pieces of art for sale at a wide range of prices. Buy a "Do It Yourself" kit to make your own miniature art! There are small versions of popular games like Uno and Connect Four and Nano Blocks. So many gems are in the shop that allows you to create at home long after the experience is over.
Whether it's shadowology, global art pieces or appreciating local artists, Small Is Beautiful offers a space to experience unique art. Some of the pieces are so tiny you have to look through a magnifying glass. Experiencing this type of art takes time and patience to observe. The experience of viewing and understanding these pieces put us in the shoes of the artist who took the time and put in the work into making it!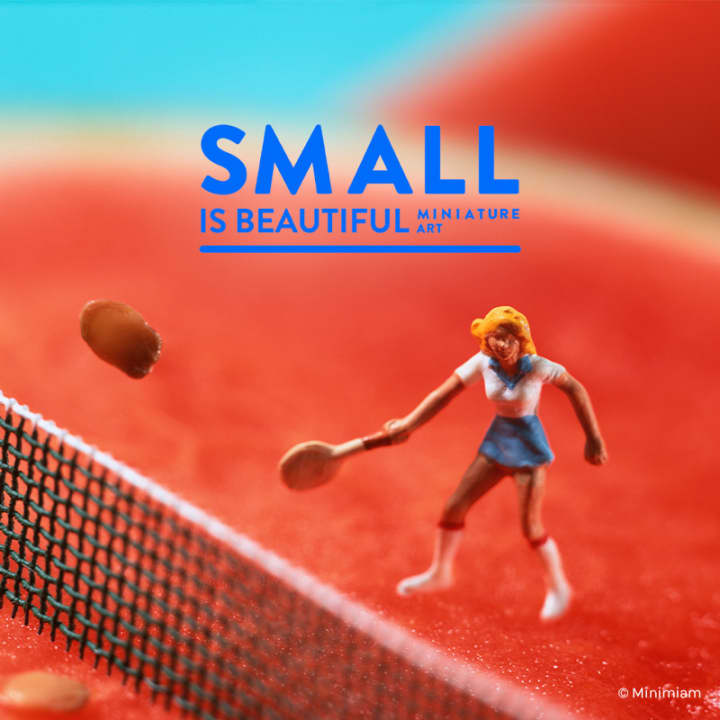 Small is Beautiful: Miniature Art Exhibition
---