Move over Halloween — it feels like Christmas!
Santa's beloved Winter Wonderland is back once more, bringing all your holiday dreams to reality, like a private dinner by the waterfront… above water… in a glass house. 
Who would say no to jolly holiday treats and drinks,  overlooking a breathtaking NYC skyline? Step into a 7,500 square ft. outdoor winter wonderland, where holiday goodies and experiences await! 
This winter wonderland is now open! — get discounted early bird tickets here (the offer ends November 24)
Step into a world decorated with magical twinkling lights and luscious evergreen trees. Across Santa's magical hall, delicious food and a beverage menu featuring comforting delicacies await. To keep you warm throughout the experience, create s'mores at the 'make your own s'mores' section, indulge in the snack bar and candy shack and immerse yourself in the holiday spirit as you sip on some seasonal cocktails. But be warned, the bar's spiked hot chocolate "tends to lead to socializing!" 
This year, it's Santa's Winter Wonderland, so expect themed activities for the entire family. He'll be there 7 days a week, the perfect opportunity to have your kids read their letters to Santa and snap those cherished photos. 
Multiple ticket types are available for Santa's Winter Wonderland: you can choose general admission to delight in the outdoor experience (complimentary hot cocoa, sights, activities…), or you can chose the warmth and coziness of Pier 15 NYC's Heated Glasshouses by selecting Glasshouse and Cocktail Chalet tickets, where you might just get a taste of Pier 15 NYC's curated à la carte holiday menu.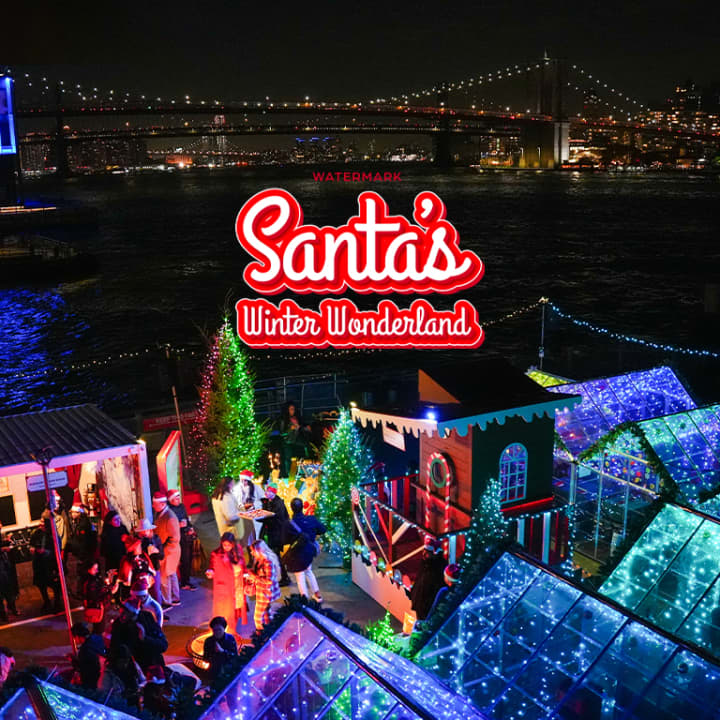 Santa's Winter Wonderland
---