There's no wasting time with the holidays: they'll be here and then gone over the span of a few weeks. To make sure you're making the most out of the season, we've got the best seasonal plans at Secret NYC. And trust us when we say, nothing looks quite like 'Santa's Winter Wonderland' at Watermark (Pier 15 NYC). We're talking dinner by the waterfront in glass houses, delectable holiday treats and cocktails, themed activities galore — all overlooking the Brooklyn bridge. 
Doors to the wonderland are now open — Get your tickets!
'Santa's Winter Wonderland' is a 7,500 square ft. outdoor adventure that gives you a taste of the north pole, right here in NYC. Bright lights, fluffy Christmas trees, a carousel… the decor screams "holidays" and we are so here for it. Santa will be in attendance 7 days a week, encouraging you to write and read your letters before snapping a couple flicks to remember forever. 
And if the holiday season already sounds promising, you haven't seen 'Santa's Winter Wonderland's food and beverage menu. It's the perfect curation of yummy holiday delicacies, from s'mores to candy and hot cocoa. Adults will even get to enjoy spiked themed cocktails — the most comforting treats this time of year. Plus, Santa's Winter Wonderland has special "HO HO Hours" going on Monday – Thursday from 4 – 6 and from 2 – 6 on Fridays! 
Now that the experience is officially open, expect tickets to go by fast! You can choose between ticket options, like a general admission that includes the entire outdoor experience (complimentary hot cocoa, activities and stunning views) and Glasshouses & Cocktail Chalet tickets that include an à la carte holiday menu that has us salivating (reservation is open to small parties and not just big groups!). Other options are available, including child and senior tickets, so check out 'Santa's Winter Wonderland's offerings before making the trip down to Pier 15 NYC.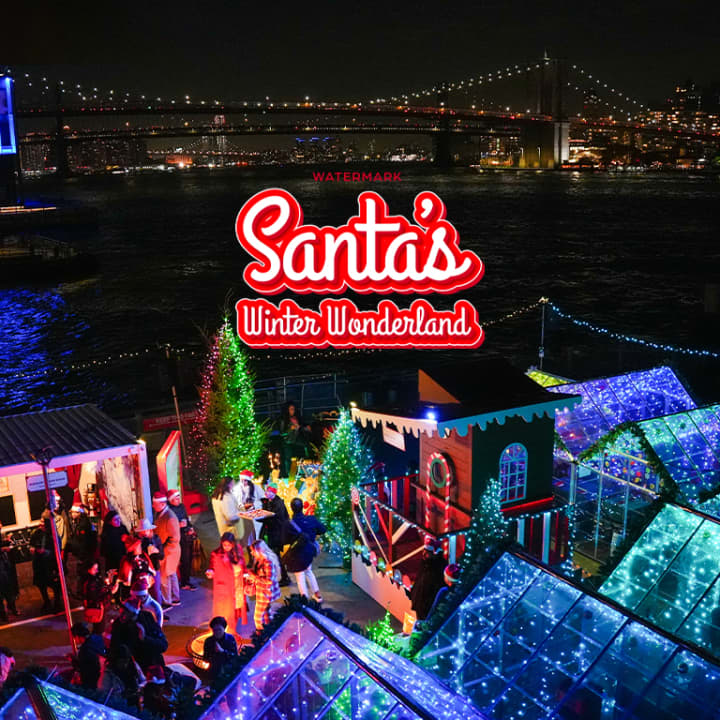 Santa's Winter Wonderland
---