Small Is Beautiful features over 30 artists and 130 pieces of art. Some of those artists are women from all around the world showcasing their incredible work. 
Catch this stunning art at Small Is Beautiful now open in NYC, located at 718 Broadway in Manhattan. Tickets and more details are available here.
Check out our list of just some of the talented female artists being showcased in this captivating museum!
1. Esha Kiran Bijutkar – Pune, India
This self-taught artist makes miniature, realistic sculptures of food. These detailed pieces are made from clay and wood. Bijutkar is and advocate of recycling and reusing materials while keeping each of her works as fresh as the food it's modeled after. 
See these incredible pieces and so much more!
2. Negar Faal – Tehran, Iran 
This former art teacher transforms paper into memorable 3D characters. Negar Faal combines her love of graffiti and origami to give her pieces their uniqueness and flair. Some of these characters include the very cool headphone wearing Mr. Migor, Bob in the box, Mila and her trusty sidekick Ken. There are also miniatures of a barbershop chair and blender made out of paper. 
Check out these cool characters created by Faal!
3. Ana Sofia Casaverde – Lima, Peru
This self-taught artist and designer created tiny paper characters and paintings that represent joy. Ana Sofia Casaverde is also known as 'Galletita de jengibre' which translates to "Gingerbread Cookie." She made one origami per day for a year as part of an international project exhibited in her hometown of Lima. 
See all of these origami original creations and more!
4. Margie Criner – Chicago
The scenic dioramas are hidden in sculptures, having viewers take a closer look. Some scenes are personal and from Margie Criner's childhood while other themes include the daily commute, dreams, voyages and more. Her art tends to explore the tiny surprises in everyday life.
Explore Criner's sculptures and scenes!
5. Lucia Dolgopolova – Kharkov, Ukraine
One of the most miniature and unique pieces comes from this Ukrainian artist. Lucia Dolgopolova goes beyond woven scarves.  A micro-crochet artist, she uses sewing thread to create these tiny creatures (with no magnifying glass). Dolgopolov has created magic by crocheting miniature versions of animals such as a frog, elephant, octopus and even a sloth on a tree! 
Don't miss these mini creatures!
6. Le Mini di Claudia – Puglia, Italy
Scenes exuding warmth and her culture are what make up the art of Le Mini di Claudia (or Claudia's Minis). This Puglia-based Italian artist, Claudia Campanale creates rustic kitchen scenes featuring pasta, autumn fruit, the summer freshness of lemons and much more!
Get a taste of Italy through this delectable art!
7. Noelle Smith – Ann Arbor
Based in Michigan, Noelle Smith makes dioramas with an apocalyptic flair. Inspired by abandoned places, magic, literary works and more, she highlights forgotten worlds and decay. Much of her work is made from wood, resin and clay.
Check out these fascinating and detailed dioramas!
8. Lydia Ricci – Philadelphia 
This Philly-based artist turns trash into miniature treasures. Lydia Ricci transforms scraps of cardboard to plastic or paper to small pieces evoking some serious nostalgia. Whether it's a tiny replica of a pinball machine, roller skate or rotary phone, her pieces are skillful and gritty. 
Nab some nostalgia while you're at Small Is Beautiful!
9. Lisa Swerling – London
These "Glass Cathedrals" have tiny figures in shadow boxes that make up her own miniature world. Some of Lisa Swerling's shadow boxes are part of Lisa's Cinerama collection. Each one shows an iconic scene from a beloved big screen classic. At Small Is Beautiful we saw vivid scenes from notable films like Amélie, Harry Potter, Manhattan and The Truman Show.
Step into these notable film scenes!
10. Basia Wesolowska – London
This Polish-born, London-based artist designs these vertical art dreamscapes encased in glass jars. Basia Wesolowska refers to these otherworldly sculptures as "Lands of Glass." These faraway towers whisk the viewer away. These pieces are intricate and there is always something new to notice and explore when looking at Wesolowska's work.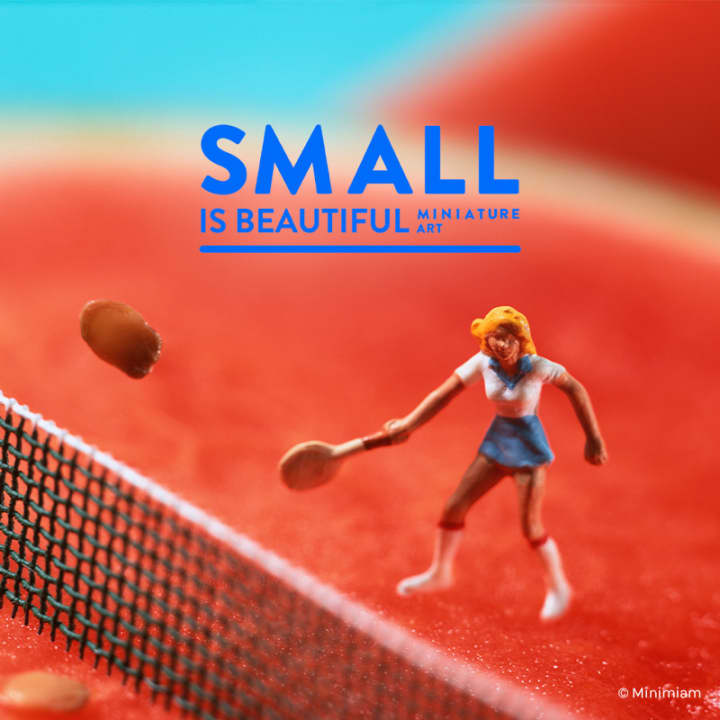 Small is Beautiful: Miniature Art Exhibition
---